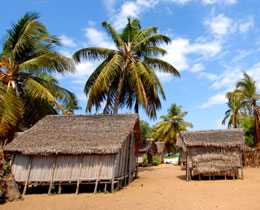 As you travel round Madagascar, you and your pupils can explore topics such as animals, parts of the body and develop vocabulary required to ask questions.
The learning journey suggests a plan for learning, teaching and assessment starting from the experiences and outcomes. It demonstrates possible learning intentions, success criteria and details potential evidence of what your pupils can do, write, say or make as they progress through the challenges.
The challenges are progressive and build on each other, however, they can be selected, used and adapted to suit the needs of learners and practitioners.
The materials promote active learning and are designed to be engaging and relevant.
Download the learning journey
PDF: French learning journey (410 KB)
Word file: French learning journey (1.7 MB)
PDF: French learning journey - curriculum progression (366 KB)
Once learners have completed the challenges from the country they can complete the self-evaluation sheet to assess their own learning.
PDF: Learners' self-evaluation postcard (183 KB)
Resources
The e-book and videos develop listening and reading skills, while other suggestions and downloadable materials will enable practitioners to develop their learners' listening and talking, writing and knowledge about language.
The wordbank of key vocabulary to help you plan the language content in advance and the vocabulary sound files will give you and your learners confidence with pronunciation.