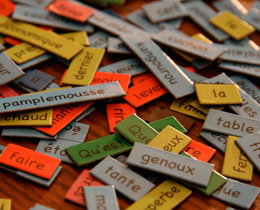 The European Language Portfolio (ELP) has been developed by our partners at SCILT, Scotland's National Centre for Languages, and will be ratified by the Council of Europe.
It will provide documents in which learners can record their language learning and cultural experiences.
The ELP will have three parts:
My language biography: A personalised learning diary making children aware of their achievements as they learn.

My dossier: Where learners can file work and materials that they feel best illustrate their language learning achievements.

My language passport: An overview of the learner's knowledge and experiences of different languages, including cultural experiences.
It will be accompanied by guides for teachers.
The European Language Portfolio reflects the experiences and outcomes for modern languages, celebrates all learners' achievements in language learning and includes opportunities for self-assessment using 'can do' statements.
It can be used as a tool for gathering on-going evidence of what a learner can do, say, write or make which can contribute to the P7 profile as a means of ensuring smooth transition between schools.
Principles of the European Language Portfolio
The European Language Portfolio (ELP) bears the logo of the Council of Europe and therefore reflects the following principles:
The ELP is the property of the learner and can be taken from school to school, to college and into the workplace.
All language competence is valued, regardless of whether it is gained inside or outside of formal education.
The ELP encourages lifelong language learning and motivates learners to take responsibility for their own learning by providing self-evaluation and assessment.
The ELP is linked to the Common European Framework of Reference for Languages.
All versions of the ELP record learners' progress and achievements in languages and include intercultural and personal experiences and contacts.