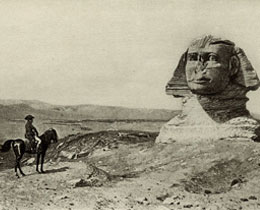 Learners will use the Napoleon in Egypt podcast as a context for the suggested learning opportunities.
With a focus on close reading and research, learners will develop their skills in the area of nuclear note-making. Pupils will produce a detailed poster containing information suggested by the question sheet that accompanies the 'Auld Wives' Lifts' text.
These learning experiences offer opportunities for links with social studies and expressive arts as learners will have the chance to explore three different areas of history and Celtic art.
PDF: Ancient monuments overview (255 KB)
Word: Ancient monuments overview (1.5 MB)
---
Photo credit: Bookplate from 'Great Men and Famous Women, Vol II' (published 1894) by Charles F Horne, reproducing a famous painting by Jean León Gérôme.
Out of copyright. Published by www.fromoldbooks.org